Five Modern Basement Toilet Remodeling Ideas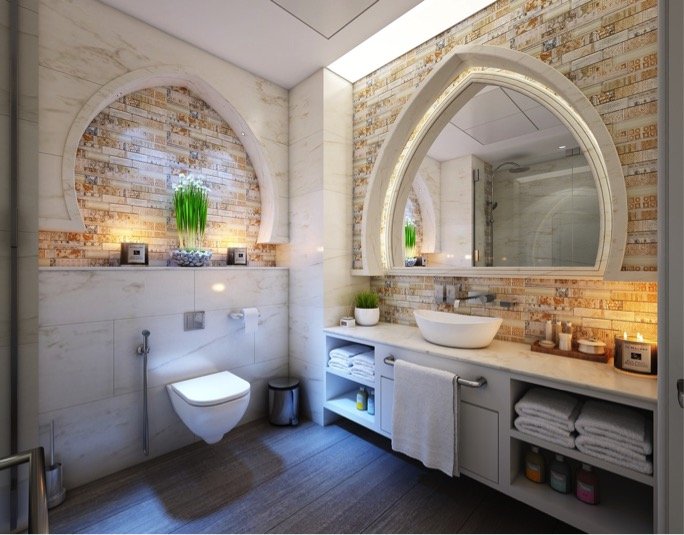 People carry out home renovations for different reasons. Some may want to add aesthetic value to their home while others may want to redecorate to have a look and a feeling of their choice. Remodeling a kitchen, bathroom, roof or basement has the advantage of increasing the value of your home which is profitable in case you opt to resale the property.
Thus, when out looking for remodeling ideas, it is important to go with what is trendy and something that will survive the next decade or so with its value still intact. Some of the basement toilet remodeling ideas include;
Use of mirrors instead of medicine cabinets
There is a general preference for more room even if you live in a small house. To make your basement bathroom look bigger, use more mirrors in the compartment. Remove the old cabinets and dressers and make the bathroom simple yet appealing. Minimize the number of handles, water and temperature control knobs, simple is attractive and also cheap.
Turn it into a spa
Use some masculine wooden frames and cabinets and turn that unused basement toilet into a home spa. Use some neutral colors that have a calming effect and ensure that you have installed a reliable basement toilet pumps so that the room will remain fresh at all time. Plumbing must be done very well to make sure that the room is devoid of moisture at all times.
Light up the room
Lighting options are many, but the most important thing to remember when doing a basement bathroom remodeling is that all the bulbs must be waterproof. Even the tiles used should be waterproof to ensure that all the water drains. You can choose to use ceiling lamps so that they can illuminate the vanity areas through the mirror reflections or use recessed lighting for a better appeal.
Subdivide the bathroom in style to give room for more privacy
When you have guests at your home, some of them end up sleeping in your basement. With a subdivided bathroom and toilet region, the visitors will enjoy some privacy. Even if your basement is small, use mirrors to make the room appear big and consider using vertical towel racks instead of horizontal vanities.
Convert it to a full bath
If your basement toilet is merely a toilet and a sink, consider remodeling it to a full bath that will give the basement occupant the same feeling like the people using upstairs bathrooms. If space is an issue, use a corner shower cabinet and combine it with floating vanities to create more space in the basement. You can also use white tiles on the floor and walls to make the room appear bigger.
Always go for simple but elegant renovation options. You must not buy the most expensive décor or light fixtures for your basement bathroom. You will add value as long as you make the room look and feel comfortable and spacious. Also, remember that the bathroom should also be a private area for you and your guests. With this guide, your basement will turn into a luxurious spa and a safe room to let go of the day's pressures.
comments powered by

Disqus