What to Consider when Buying a Shower Enclosure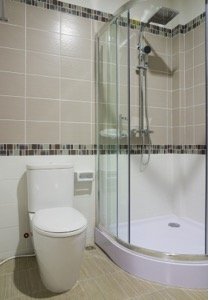 A beautiful shower can make a big difference in a bathroom. It is a good starting point if you want to build your dream bathroom or you're looking to improve it. Your shower can have all the design elements and luxuries, making your bathroom a haven for relaxation. When designing a bathroom, it is wise to start by choosing the shower enclosure, the catalyst for most remodels. A big trend these days is frameless glass enclosures that offer a spa-like feel. For a better understanding of your choices, here is a brief guide to help you in selecting the right one for your needs.
Space
The space in your bathroom may influence the type of shower enclosure you need. It is possible to fit a shower even if you have a tight space. In this case, you still have different choices such as mirrored glass, over-bath shower and alcove, corner or recess enclosures.
Positioning
Think of where you intend to place the shower enclosure. This determines the shower tray and enclosure door required. For instance, if you want your shower to be in the centre of a wall, you may need a D-shape enclosure. If you're doing an upgrade and you want to save on costs, you can choose the existing position so less plumbing work is needed.
Type of Glass
Various types of shower doors are available, but to help you choose, you need to remember some key points. Tempered glass is a good option because it is safe, durable and easy to clean. It can last long so it is also a good investment. Another option is toughened safety glass, which is best for shower enclosures and wet rooms. When choosing glass, keep in mind that thicker glass needs extra support. If on a budget, 4mm or 6mm glass is a good choice. The glass thickness may be restricted if you have a very large, or curved, area of glass.
Tray
Shower enclosures may or may not have a tray. Having a tray can be advantageous because it can help prevent leaks. You can buy the enclosure and tray together to get the right size. If you're installing a recess shower, you have to choose the size carefully.
Hand Fitting
To figure out where you want to position your enclosure, think about whether you need to open it to the right or left and where any potential obstructions are.
A wide range of shower enclosure types is available, so you can choose the one that best suits your taste. These include quadrant enclosures, frameless, hinged, sliding, pivot, shower cabins and more. After that, you can choose the type of glass you want and the other elements such as the tiles or shower outlets. It pays to do your homework and research your options, so you can make an informed decision.
Image: freedigitalphotos.net/ nuttakit
comments powered by

Disqus