Top Mistakes To Avoid When Selling Your Home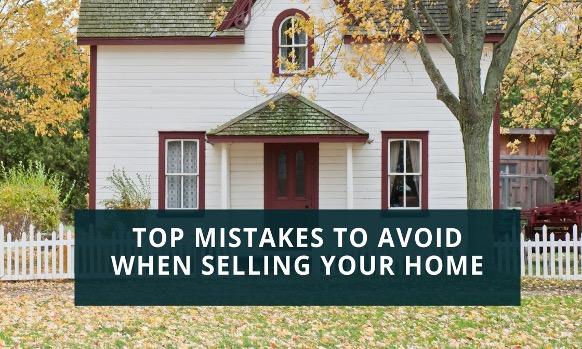 There are several reasons why people may decide to sell their homes. It could be that they're about to embark on another chapter of their lives, move to a new neighborhood, and meet new faces. It could also be because of financial constrictions and selling the house seems like the most practical choice to take at the time.
That said, whatever your intentions may be in selling your home, one thing is for sure: You would want to get the best deal out of it – be it for monetary or sentimental reasons.
So today, rather than teaching you how to sell your home, I want to address something even more alarming: The top mistakes homeowners make during a house sale.
Selling The House Yourself
You might think that the best way to sell your home is to showcase it yourself to interested buyers aka going by the old FSBO (For Sale By Owner) route. After all, if there is anyone who would know about the true charms of your house, it's you – right?
WRONG.
If you do not have sufficient experience in selling houses, you are more likely to make errors in your judgement. You could:
Sell your house at a much lower deal than it goes for in the market; or
Do the complete opposite and balloon your prices to a point wherein no one would even bother to say they are interested.
Make potential house buyers feel awkward during the entire house tour because of your overly enthusiastic manner and, well, biased way of showcasing your home.
These are just a few of the many problems that may arise because you simply decided to take things upon yourself. Hiring a real estate professional to act as a middleman for the transaction will undoubtedly increase your chances of selling your home faster and landing a better deal on it.
Real estate professionals are trained to bring out the best features in the properties they sell and encourage potential buyers to look at the same. So, while commission costs may worry you, it is still a more worthwhile spend than losing money because of a bad deal.
Plus, they can conduct a comparative market analysis for your home and compare it with other similar properties sold in the area to come up with the most strategic and competitive price point for selling.
Underestimating The Impact Of "Staging"
It doesn't cost much to stage a house in a way that it looks welcoming and appealing to potential buyers who drop by and look around. Staging your home in a way that accentuates all its best features and strong points can considerably mark up the price of the sale.
You shouldn't just stage for actual viewings, either. The photos you use for your property listings must also be beautiful enough to entice curious eyes. Get your lawn trimmed, take unnecessary items out of the way, and throw out junk that does not add value to your house at all. If it's not going to help your house sell, get rid of it.
Being Too Fixated On Selling The House At A "Higher Price"
Getting to sell your home at the highest possible value is always the best case scenario. It will also feel a lot easier to let go of something you've grown emotionally attached to over the years when you know that you're exchanging it for a fair and competitive price.
However, how far will you go just to sell your house at a higher value?
To sell it for more, you need to make sure that it's worth its price tag. Otherwise, buyers will just feel like you're trying to dupe them into buying a property that is obviously not worth it. And so, you'll end up getting repairs, buying new furniture, and renovating many areas in your home.
Depending on the extent of damage over the years or after years of staying vacant (in the case of unused properties), this could cost you - a lot.
If this happens to be the case, you should also consider selling the property AS IS. There are investors who are looking to acquire properties for a fair and reasonable price.
You sell them the property in its present condition, and they take care of the rest. You don't have to worry about renovation work or paying for additional costs to make your property presentable during the sale. You can sell it for a good value minus the hassle.
Try to think about it. How much will you profit off your house when you sell it as is and when you sell it after repairs? If you net more or less the same amount? Then save yourself the extra work and look for investors who would be willing to take the property off your hands.
Hiring Contractors That Charge Too Much For Repairs
This is just a bit of a continuation to what we talked about in preceding paragraphs.
Say, you still insist in having the house repaired and refurbished so you can sell it at a higher price. What next?
The next thing is to find the right contractor to work with you - and boy is this easier said than done.
There are many contractors who will come forward and tell you that they're the best for the job. And just when they manage to convince you to allow them to take on the project, they hit you with $$$.
Unless you know a contractor that you can confidently place your trust in, you risk paying more for the renovation job than necessary. Even if you manage to sell the house at a higher price, you might net less profit after taking repair costs into consideration.
Again, weigh your options carefully. Renovating your home so that it would look presentable during open houses and client viewings may seem like a good decision. However, it also requires much work and will delay the sale of the property.
If you're just going to earn around the same amount at the end of the day, selling the property as is to interested investors may actually be a more viable, less troublesome option.
Not Being Truly Transparent About Your House's Issues
As much as you want to sell your home fast, hiding important information from potential clients is never a good idea, especially when it's something they are likely to have issues or problems with in the future.
If there's a roof leak and you don't want to repair it, just let them know. If the heating system inside the house is faulty, tell them so that they can take it into their budget considerations. "Not telling" is still lying by omission – and you should already know that such situations never end well.
Even if you do keep the house's issues a secret, clients can always hire people to do a home inspection. You'll be in the losing end when they decide to have the house evaluated after you already came to an agreement. If they find too many faults, they will likely ask you to lower your prices, too.
It pays to be honest in all areas of life – even when you are selling houses!
comments powered by

Disqus