Interior Decoration 101: Stylizing the Business Lobby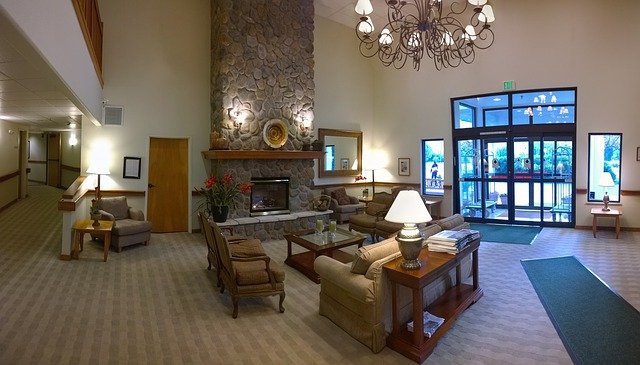 We've all heard, "It was love at first" enough times to drive us mad; however, there may be no truer statement about the laws of attraction.
Especially when you consider how it affects the world of business.
From interested investors to corporate partners, from potential employees to current customers—if you fail to motivate their interest or encourage excitement from moment they walk in, you just lost a business opportunity.
And that's why the interior design of a lobby is imperative to success in the business world.
A lobby can embellish a business's authority over the competition, exude confidence, encourage positive energy, inspire confidence and promote professionalism. Conversely, a poorly designed business lobby can in fact do the exact opposite.
So, if you're in the process of designing your business's waiting room or lobby, consider the following suggestions to help inspire creative décor ideas:
Connects to the brand
Anyone entering your place of business will, in a sense, be entering your brand.
Whether you choose to incorporate themed commercial patio furniture or an indoor glass fountain, the lobby area should connect with the company's brand in some fashion. For businesses struggling to find décor ideas, this is especially beneficial to utilize. By connecting the lobby's décor with the theme of the brand, it's easier to decipher which elements work and which don't.
Setting the tone
The lighting of a lobby generates several intangible elements that manipulate the mood and ambiance. Subconsciously, the mind notices lighting more keenly compared to lucid thought; in other words, the lighting is essential for creating the lobby's focal point, tone and background.
A dimly lit lobby adds depth and exaggerates a more sophisticated setting, where strategic light positioning can navigate guests as to where to go (e.g., front desk, elevators, artwork, bathroom, etc.); however, it's important that guests and new clients easily find company essentials without lighting being of issue. Table lamps placed near paper documents produce an intimate, old-fashioned vibe that is also useful to explore.
Safe for relaxation
Ultimately, the lobby serves as one purpose: sitting.
Investing in durable, comfortable and welcoming furniture reassures people to feel comfortable. Deservingly, the business environment suffers from a stigma of stress, intimidation and fear—designing your lobby with a key focus to comfortable seating, whether it's placed inside or outside the building, is a mandatory interior requirement for happy employees and guests.
Welcoming in Mother Nature
Inviting natural living plants to be assorted throughout the business lobby is a great décor option that is adaptable, inexpensive, adds charm and immediate beauty into the area. Keep in mind, however, plants require routine upkeep and weekly care as well as the need to keep in mind seasonal conditions and placed in areas which receive natural sunlight.
Hang up some added inspiration
Placing artwork and fascinating photography along different areas of your lobby is a chance to let your ingenuity truly shine. Art, with its subjective connotation, inspires interesting conversations that generate ideas and provides limitless potential for creative thought, which is particularity significant in the work enviorement.
Image: https://pixabay.com/en/lobby-reception-hall-hotel-346426/
comments powered by

Disqus